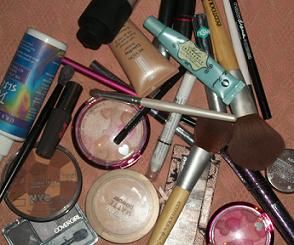 I hardly ever do these types of FOTD posts, even when I think about it. I'm too lazy to snap photos when I actually do the makeup and by the time I get home from being out or at work, my face looks a hot mess! I've been loving this trio from Covergirl lately - it's one of the new ones, in the shiny new packaging and everything. I've been wearing this look a lot. It's kind of mod, kind of smoky, but it works for work and everyday life as well. I technically cheated, because I didn't actually wear any face stuff to work, but I put some on when I got home for the purpose of this post. :/
And I never really thought much about Covergirl eye shadows!
FOTD
Okay, let's start off w/ the review part. I noticed the Covergirl endcap display when I was doing truck. I think everything is like a dollar or so more at Ulta than at places like Target or Meijer and these were on a "save $2" sale at Meijer two weeks ago, which made it around $1.69...and that is cheaper than it would be w/ my employee discount at Ulta, so I dove in and bought one.
The first thing I noticed is the packaging. I prefer the new packaging to the old blue one, so definitely an improvement. I'm not sure if these are also reformulated, but I've never been a huge fan of CG eyeshadows and I really like this one, so take it as you will.
According to
Covergirl
:
This collection of great shades is designed to make your eye look go from day to night. They blend effortlessly to bring your eyes out beautifully, without overshadowing. Experiment using them together or as single shades."
This set blends nicely. The pigmentation isn't CRAZY amazing but it's decent enough for the price. I've been using it over NYX Jumbo Eyeshadow Pencil in "
Milk
" though - I haven't actually used it by itself. The lightest shadow isn't super impressive on its own, to be honest. It also faded the most. They all show up nice in swatches, but I definitely wouldn't wear this trio w/o a primer or a sticky base underneath.
It's a nice, more toned down smoky eye though. And depending on how you wear it, it can be a more natural mod eye. I really like the midtone mushroomy-taupe shade. Actually, if you're like me and think that super metallic silver smoky eyes can look a bit bizarre on you, you might want to check this trio out. It feels and looks warmer. And the midtone shadow is more gray than brown but it works.
My only real complaint would probably be that the deepest charcoal shadow isn't actually that dark. It's a different shade than the midtone one, because it doesn't have the brown undertones, but they look almost the same on the eye.
Now onto the FOTD stuff.
Obviously, if you were recreating this look, you would want to blend more. I had to reapply my makeup because my eyeliner was halfway down my face and my eyeshadow was all but gone, haha. And I never blended, apparently. Nor did I apply a brow bone highlight. Ah, well, shit happens.
FACE
EYES
LIPS
MAC Viva Glam Cyndi. This was limited edition. :( You can learn more about the Viva Glam Program here.
essence XXXL Shine Lipgloss in "Wanted!". This color was limited edition.