I'm sure almost everyone and their mum have heard about the
e.l.f.
Elements compacts - those cheap empty eyeshadow quads that you can buy for $1? Most people get them so they have something to put depotted eyeshadows into. MAC palettes can cost you a pretty penny (MAC quads are $7 and the 15-pan palettes are $16) and so can cheaper palettes from other brands. e.l.f. Elements
Custom Compacts
can be found on e.l.f.'s
website
and also in Targets. I'd imagine you could find them anywhere that carries the e.l.f. cosmetics line - I've bought a couple of these compacts from Meijer before.
Unfortunately, I don't own any of the face products or the lip products from this line, so this is a review on the Custom Eyeshadows ONLY. Sorry about that; I don't really dig shimmery face products and none of the lip colors look that appealing so I doubt this will change any time soon. :/
FTC Disclaimer
: I bought all of this stuff myself. e.l.f. cosmetics does not even know that I exist so they are certainly not sending me any free products, nor are they compensating me for this review or sponsoring me. All opinions are my own!
I originally bought the compact to depot some other shadows into. The compact is nicely made - it feels sturdy and it has a nice big mirror. The compact itself is not magnetized; it has a metal sheet on the bottom, so you will still need to magnetize your depotted shadows or they will not stay put. Also, if you snap out the white plastic insert, be warned that the metal sheet is not glued to the compact and it will fall out. I've cracked a couple of shadows from that metal piece falling out of the compact. The compact holds MAC, Milani, jane EyeZings, Urban Decay, Wild and Crazy, and others, I'm sure. It is meant to be a quad, but if you pop out the plastic insert, you can fit six MAC shadows - the e.l.f. Elements Custom Eyes pans are slightly bigger and you won't be able to fit six of those into a gutted palette, unfortunately.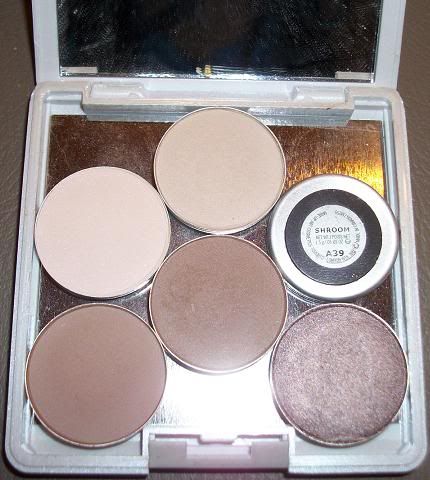 That being said, I ended up buying eight of the Custom Eyes shadows. They're a dollar each (so a quad will cost $5) and I think you're better off buying the little $1 quads, TBH. These shadows have a similar consistency to the $5 Beauty Books - they're very soft and powdery. All ten of the shadows in this set are shimmery. They have a chalky sort of pigmentation - they're really easy to blend away and they show up lighter than how they look in the pan or swatch on the hand.
According to e.l.f.'s
website
:
Luxuriously smooth and silky mineral formula provides eyes with a neutral base and an awakened brightness for a long-lasting wear. Choose your favorite colors that best compliment your unique and beautiful look."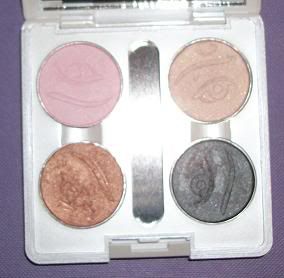 L-R; clockwise: "Truly Pink", "Pink Ice", "Dusk", and "Mocha".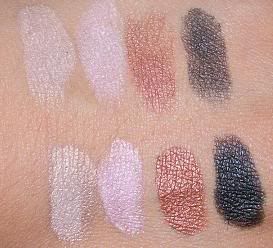 L-R: "Pink Ice", "Truly Pink", "Mocha", and "Dusk". The top row is swatched over bare skin and the bottom row is over Too Faced Shadow Insurance.
All of these colors are pretty standard. Don't get me wrong: these shadows are okay quality and I do like them alright BUT...I don't think they're worth the money. Those $1 quads are better than these shadows. For one thing, they're a lot less chalky. This quad has some staple colors - a shimmery charcoal gray, a warm orangey brown. The two pinks I could live w/o however.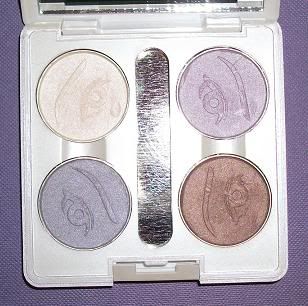 L-R; clockwise: "Ivory", "Wisteria", "Moondust", and "Periwinkle".



L-R: "Ivory", "Wisteria", "Periwinkle", and "Moondust". The top row is swatched over bare skin and the bottom row is over Too Faced Shadow Insurance.
And again, these colors are pretty standard. Yes, these have decent pigmentation and they have some good staple colors but I just don't think these quads are worth the $5. e.l.f. has a lot of other products that are just so much better.